The Baby Decision: How to Make The Most Important Choice of Your Life by Merle Bombardieri, MSW, LICSW (second edition; revised and updated) is a clear, compassionate guide to making a parenting or childfree decision with confidence. Many women of childbearing age and their partners find it hard to make this life-changing decision. Without a crystal ball, what can you do? Some women say "I like the idea of motherhood, but how do I know I'd really enjoy it? What will happen to my job, my relationship, my sanity?" Or they say, "I'm leaning toward being childfree, but will I be sorry later?"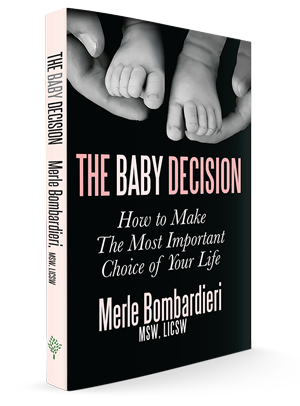 Merle Bombardieri, MSW, LICSW has been helping people make this decision for over thirty years in her therapy and coaching practice and in her Baby Decision Workshops. With a depth that only a psychotherapist can provide, she shows you strategies for dealing with doubt and ambivalence and uncovering your deepest self-knowledge. Through anecdotes, exercises, guidelines, and checklists, she leads you to your best possible choice.
Imagine the relief of finally cutting through the tangled vines of pros and cons and seeing a clear decision emerge. Merle helps you not only to make a decision but to use it as an opportunity for you and your relationship to grow.
You will learn how to:
Use dozens of "Secret Doors" exercises to uncover hidden feelings and wisdom.
Separate your own needs and preferences from societal myths and expectations.
Give full consideration to the rewards and opportunities of living childfree.
Talk constructively with your partner even if you disagree.
Manage work-life balance and keep your relationship strong.
Make decisions about one-child families, single and gay parenting, fertility and adoption.
Borrow some of the benefits of the other choice.
You will also learn how to trust your decision and make the most of it.
Includes a resource section and a bibliography.
Bonus section: Preparing your body for a healthy pregnancy.
Are you thinking about remaining childfree?
The Baby Decision will show you:
How to cope with pressures to parent from family, friends, and others.
How to handle ignorant or hostile comments. With these voices subdued, exercise your freedom to make your own best decision.
Self-exploration exercises that help you rule out parenting so that you can trust your choice, for example, "Yucky Babies," pp. 35-36.
Dozens of ways to get the most mileage out of living childfree, in the chapter, "Embracing Your Childfree Life."
How to understand and negotiate with your partner if you are disagreeing about the decision. "Tug of War: What to Do When Couples Conflict."
10 tips for breaking the news to your parents and in-laws to soften the blow.
12 actions for disappointed fertility patients for healing and decision-making so you can discover the rewards of living childfree.
How to make peace with being childfree for your partner's sake when you have been eager to parent. Moving beyond disappointment to a good life.
The Baby Decision is available in paperback, Kindle, and many other ebook formats. See where to purchase here.